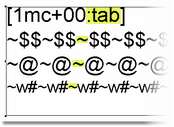 Use the Special Tabs field to open the Special Tabulations dialog and specify the tabulation positions to be used for all the elements of a one-line MiniCalendar (@ dates, $$ weekdays, and w# week numbers).
The Special Tabs options require the MiniCalendar in your GridTemplate to have a Tab Character Insertion MiniCalendar modifier and a tilde (~) at each position where a tabulation character should be inserted, as shown in the example on the right.
One common use of the Special Tabs options is to add some extra separation between Sundays and Mondays to visually separate the weeks of a one-line MiniCalendar, as in the example below.

Another example is to have uniformly-spaced tabs, but with a separation between tabs which depends on whether the month has 28, 29, 30 or 31, so that each month is equally wide, regardless of the number of days it contains.
The effect of the Special Tabs option will not be visible in the MiniCalendar preview, only in the final output file.