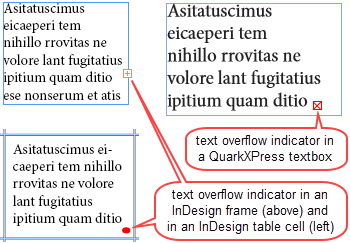 Text overflow, in
QuarkXPress
, occurs when the text contained in a textbox is too lengthy or too high (or both). The overflow is denoted by a red check-box at the bottom right of the textbox.
Use the check text overflow diary generation option to make sure that Q++Studio warns you about any text overflow during diary generation.
➢If you get text overflow warnings during diary generation, that you think are incorrect, then you can use QuarkXPress' Line Check utility to check, among other things, for text overflow, exactly as Quark sees it.