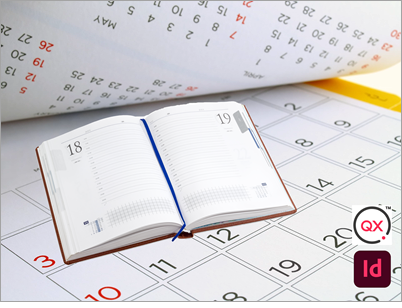 Since 1999, Q++Studio has been the choice of the world's foremost diary and calendar publishers, to automate the typesetting of their diaries and calendars, reliably and efficiently, using the industry-standard QuarkXPress and InDesign file formats.
Welcome to the online documentation for the XV4 version of Q++Studio.
The XV enterprise version of Q++Studio, for QuarkXPress or InDesign, is the 64-bit flagship version of Q++Studio, designed for larger diary and calendar publishers who require complex diary and calendar customization, support for InDesign, the ability to scale-up to multi-user, multi-site, and multi-brand environments, using high-end server and workstation hardware and operating systems, as well as support for new versions of QuarkXPress and InDesign on the day they are released.
The following topics are a good place to get started with this documentation:
•Overview, an overview of the current documentation, grouping the various chapters of the table of contents into meta topics.
•What is Q++Studio?, a list of the diary and calendar-related features of Q++Studio.
•What's New?, a list of the new features, improvements and bug fixes that were included in the various releases of the XV4 version of Q++Studio in 2022.
•The topic on the various features of the present online documentation.
For more details about the Q++Studio diary and calendar typesetting automation software, see the presentation page or the versions and pricing page on our website.
---
Topic 186600, last updated on 24-Apr-2022