The Font and Character Map tool, accessible from the tools menu of the main window, allows you to select visually any character defined in any of the Unicode ranges.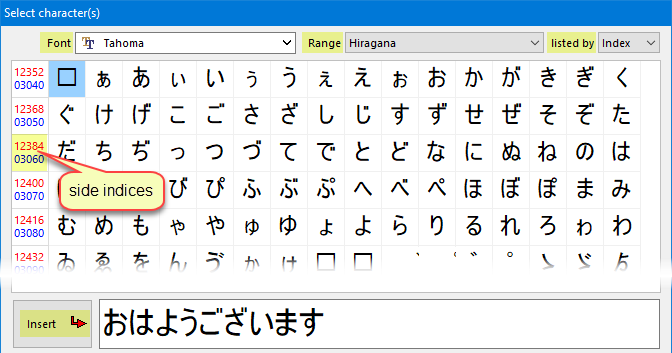 Font

Use this control to select any of the fonts installed on your computer. The list is not limited to "Unicode" fonts.

Range

Use this control to select the Unicode range to display.

Below the Unicode Range combo-box, is the Listed By combo-box.

The Alphabetical option will list all Unicode ranges based on their name (best used when you know the name of the Unicode range you wish to use).

The Index option will list the basic Latin characters first and the list will then go down into more exotic Unicode ranges. This option is useful if you know the Unicode index of the character that you wish to access (in that case you can refer to the Side Indices in the main part of the dialog).

Side indices

The indices shown at the left of the dialog correspond to the decimal (red) and hexadecimal (blue) and are useful, in conjunction with the Index listing option, if you know the Unicode index of the character that you wish to access.

Insert button

Click on the Insert button to add the character selected in the dialog to the edit box at the bottom of the dialog (you can also double-click on the selected character).
The Unicode Character Selection Dialog is accessible directly from various dialogs (such as the tokens manager) or, independently from the Character Map menu item of the tools menu.
See also: screen font list selector.
---
Topic 107103, last updated on 18-Mar-2023