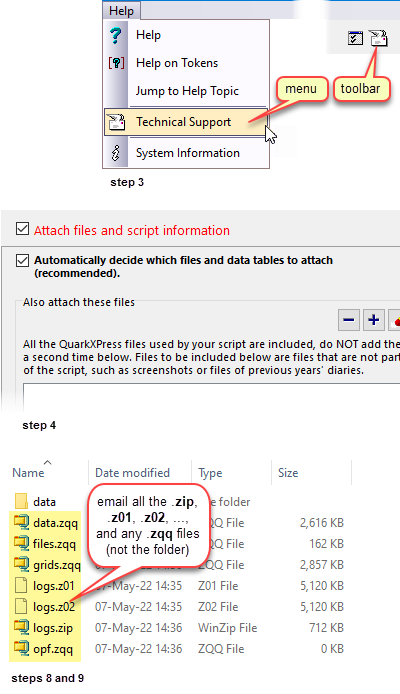 Using the built-in
technical support email
is always the best way to contact Q++Studio technical support.
However, in some cases this will not work because of some parameters of your network and/or firewall.
In those cases, you can still take advantage of the technical support functionality of Q++Studio, but in the last step you have to send the required files manually.
To send a script to technical support, using your own email client:
1.Open the script and generate the diary (even if the results are not as desired).
2.Make sure that QuarkXPress is closed completely.
3.Launch the Technical Support module, as shown in the image on the right.
4.In the dialog that opens, make sure that the check-boxes are, as shown on the right, and click on the Save button.
5.If you are asked to confirm then click on the Yes button.
6.Wait for Q++Studio to create all the files related to the script. This will take 1 to 2 minutes.
7.A message will come up (as shown above right), asking you if you want to open the folder with the script-related zip files. Click on the Yes button.
8.The Windows Explorer will open as shown below with between 8 and 11 zip files (depending on your script).
9.Use your usual email client to email me all the .zip, .z01, .z02, ..., as well as any .zqq files in that folder.
Finally, if you are having problems with the ZIP attachments being removed by your email server, then use the option to save attachments as .zqq files instead of .zip files, as described here.
---
Topic 177370, last updated on 18-Sep-2020