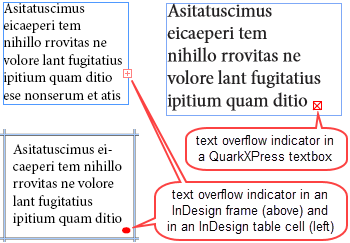 This
diary generation message
corresponds to the appearance of the QuarkXPress text overflow indicator in the current textbox.
This may or may not pose a problem visually in the output, as this overflow is sometimes caused by the last end-of-line character.
If you are getting text overflow messages that are incorrect (as verified using the QuarkXPress line check) then there are 3 different workarounds:
•Remove runaround from objects that are in the same XY position of the left page as the object generating the spurious text overflow message on the right page (or even easier, remove runaround from all objects as this is rarely needed and is often the source of problems).
•Use the Remove Runaround generation option.
•Use the Break links to Master Pages generation option.
There is a bug in QuarkXPress versions 8 and 9 which can cause the appearance of spurious text overflow messages. This bug in the treatment of runaround in master pages is fixed in QuarkXPress version 10.
Beginning with build 17981 (2-aug-2017), the output file is closed and then re-opened after SARAs to ensure that a full recalculation of all elements of the output file is done, and this seems to address the issue of the rare remaining spurious text overflow warnings, for QuarkXPress versions 8 to 2023.
---
Topic 108530, last updated on 27-Oct-2022