Slogans are grouped into Slogans Sets which are organized into folders and sets.

There are 4 types of slogans sets, classified according to the date rule they obey (also shown, near the type name, is the icon used to identify each type of Slogans Set in the slogans manager:
| | | |
| --- | --- | --- |
| Cyclical | | A simple list of Slogans. Start somewhere in the list and cycle through the list. For example, a customer might have "The 5 principles of XYZ Inc." that they want to have cycle every 5 weeks in their diary. |
| Run Once Only | | This is a special case of Cyclical where the cycle stops once it reaches the end. |
| Month and Day | | Slogans which appear based on the token's the month and day (the year is not relevant). |
| Specific Dates | | Slogans which appear based on a token's specific date. |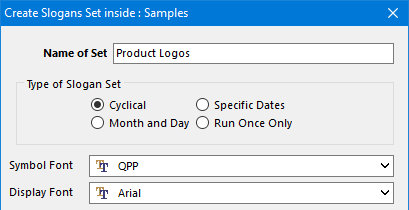 Under certain circumstances, it is possible to
convert slogans sets from one type to another
.
The Slogans Set properties dialog is used to set or modify the properties of slogans sets.
➢To open the Slogans Set properties dialog, click on the corresponding button on the slogans manager's sets toolbar.
The properties of a Slogans Set are:
| | |
| --- | --- |
| Name | Use any name of your choice up to 128 characters long. |
| | |
| --- | --- |
| | All characters are allowed, including Unicode ones such as CJK, and names do not need to be unique (but they ought to). |
Type

The

type of occurrence

of slogans in the current Slogans Set.

The

Type of Slogan Set

displayed above is how the Slogans Set Properties dialog appears when you create a new Slogan Set.



Once you have specified the type of a set, you cannot modify its type directly from within this dialog (as shown in the screenshot above). You must use the

More ...

button located at the right of the the individual slogans toolbar to convert a slogans set from one type to another..
Symbol Font

This is not currently used for

Slogans Sets

.
Display Font

You will rarely need to change the

Display Font

. It is used whenever you are dealing with East European or Scandinavian languages and you need to have access to characters which are not available on your keyboard. The Display Font only affects what is displayed to you when you enter the text of a Slogan, and does not affect the output file in any way. The fonts used in your GridTemplate will be the fonts that appear in the Output File.
Note that this dialog only controls the properties of a Slogans Set, not its contents which are specified in the slogans manager.
In the bottom half of the Slogans Set properties dialog are fields which hold the value of the latest files used to import Slogans.
See also: converting slogans sets from one type to another.
---
Topic 105027, last updated on 09-Jun-2020