Remember that you can use the search bar, located at the top of the Moon and Sun Options dialog, to locate any of the many Moon and Sun Options available.
time formatting control
The Daylight tab of the Moon and Sun Options dialog contains the settings used to specify how to display the times of seasonal sunlight-affecting events of the currently selected DiaryGridLine.
Short daylight runs from sunrise to sunset and long daylight from dawn to dusk. The manner in which the result of daylight length tokens (short and long) appear is specified using the corresponding Time Formatting control.
The value of the Extended Daylight tokens will depend on the depression angle specified in the Dawn and Dusk section of the Sun Data script line property.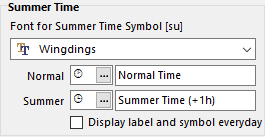 To display
summer time tokens
, you can specify the
font
to use to display a specific symbol to identify each event and the
label
that it should have in specific diaries.
By default, the Display label and symbol everyday option is set to false, which means that the label and symbols selected above will only appear on the dates when summer time starts and ends.
If that option is set to true, then the label and symbol corresponding to the status of summer time will be displayed on every day.
For locations above 66 degrees north (and below 66 degrees south), there are periods, covering many weeks, even months, when the Sun never sets below, or never rises above, the horizon.
To display these times, you can use the sun above/below the horizon token and specify how you wish this effect to be displayed using the corresponding all day above/below horizon control.
---
Topic 175330, last updated on 01-Aug-2020