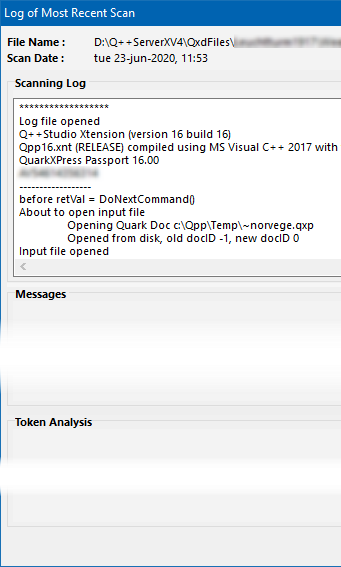 The Scan Log
debug tool
lets you view any message generated by QuarkXPress or InDesign or by the subsequent token analysis during the most recent scan that was performed on your workstation.
The filename of the most recently scanned file is displayed at the top of the Scan Log dialog, along with the date and time at which it was scanned.
The Scanning Log zone displays a log of the QuarkXPress xtension or InDesign plugin activity during the most recent scan. Its information is mainly intended for the use of technical support. It displays, among other things, the paths used ofr the database temporary folders and can be useful to detect problems with the database initialization.
The Messages zone displays any messages generated by QuarkXPress or InDesign during scanning. The presence of messages, here, does not necessarily mean that the scan failed, as not all scanning messages by QuarkXPress and InDesign are errors.
The Token Analysis zone displays the results of the tokens analysis performed by Q++Studio on the text contained in a scanned GridTemplate. This analysis looks for the most obvious errors, mostly repeated and mismatched braces, and these messages correspond to the ones that appear in the scanning warnings.
Additionally, a link is provided at the bottom of the Grid Scanning menu to allow you to conveniently re-open the last GridTemplate scanned on your workstation.
---
Topic 108078, last updated on 07-Apr-2021