The Scanning/Inspecting Messages Dialog lets you view the messages issued by Q++Studio and QuarkXPress or InDesign as the result of scanning a gridtemplate or inspecting a Plain Quark File.
➢These are not necessarily errors.
Messages in this dialog are grouped. Click on the plus sign to the left of any group to see all its messages.


When you select a message in the advanced data grid at the top-left, its full text appears in the Full Message area below the list of message, a bitmap preview of the template page where the message originates is displayed at the bottom left in Page Preview, and the textual content of the textbox, if any, which caused the message, is displayed on the right in Object Preview.

Also, when you select a message, a preview of the corresponding help topic is displayed on the right in Help Preview.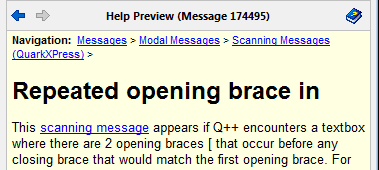 Click on any of the hyperlinks to jump to the related topic. You can use the Back and Forward buttons to navigate the history of topics view. Click on the View Full Help button at the right to open up the desktop version of the help and documentation, which includes images, screenshots, navigation tools and search tools.
---
Topic 180935, last updated on 09-May-2021