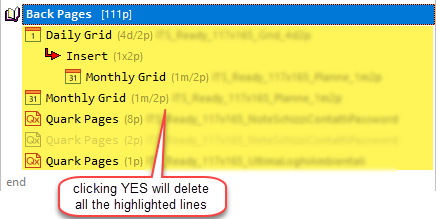 This message occurs if you try to delete a ScriptLine which is either the
FrontPages
or the
BackPages
of a Script and which has one or more children, as in the example on the right.
➢If you wish to keep some of the ScriptLines of the currently selected block, then you can click on the Cancel button.
Then you can either delete the ScriptLine individually, or move/copy the ScriptLines you wish to keep, before trying to delete the FrontPages or the BackPages block again.