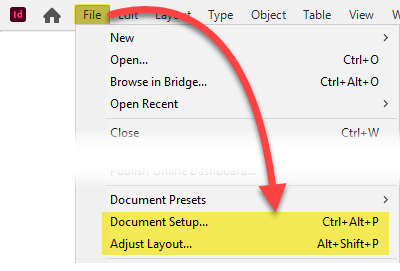 The 2 InDesign menus to access Bleed Area settings.
The Document Bleed and Slug Area is a specificity of InDesign documents which lets you specify that the entire page should bleed (bleed area) as well as allowing for an area where you can add annotations (slugs area).
➢These values can be set in the diary generation options, on a script-by-script basis, to either use main grid's bleed and slug values, or to use values that you have specified.
The bleed area values can be set via either of the 2 menu options shown on the right, while the slug area values are only accessible via the Document Setup menu on the right.

The name slug, used in the InDesign English UI, is a bit of a misnomer, and in the Spanish UI it is called Anotaciones (annotations) while the German UI uses the term InfoBereich (information area).
---
Topic 185700, last updated on 22-Apr-2022