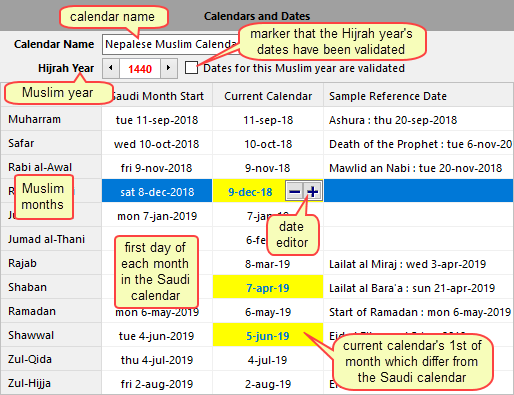 Muslim calendars and dates
are determined by the date of the first day of each Muslim month.
To specify the dates on which Muslim months begin for a given Muslim calendar source:
•select a Muslim calendar, or create one, in the Calendar and Dates tab of the Muslim data source manager
•use the Muslim Year spinner to move to the appropriate Muslim year.
As shown on the right, there are 4 columns.
•The first column lists the names of the Muslim months.
•The second column displays the dates of the beginning of the months according to the Saudi Umm al-Qora calendar.
•The third column displays the beginning of months dates for the selected calendar. This is where to indicate the dates on which your calendar is in disagreement with the Saudi one. You can only move Muslim dates by more than 2 days in either direction.
•Any change in the third column is reflected in the fourth column which displays the dates of selected Muslim holidays based on the dates of the selected calendar (this is usually a good way to check your data).
The check-box Dates for this Muslim year are validated is used, to specify whether you have checked the dates for the selected calendar and year, and is used to issue warnings if you run a diary that uses a Muslim calendar on a year for which you have not validated the dates for the beginning of each month.
Whenever a Muslim month is referred to by number, usually in muslim macro functions, we use the following numbering.
1 Muharram

2 Safar

3 Rabi al-Awal

4 Rabi al-Thani

5 Jumad al-Ula

6 Jumad al-Thani

7 Rajab

8 Shaban

9 Ramadan

10 Shawwal

11 Zul-Qida

12 Zul-Hijja
See also: EncodeMuslimDate and iMonthOf.
---
Topic 182788, last updated on 18-Apr-2020