You can export Muslim prayer times to an MS-Excel file the Prayer Times tab of the Muslim data source manager, by clicking on the Export button at the top left of the Prayer Times tab on that dialog.
A dialog then appears with the various calculation options available.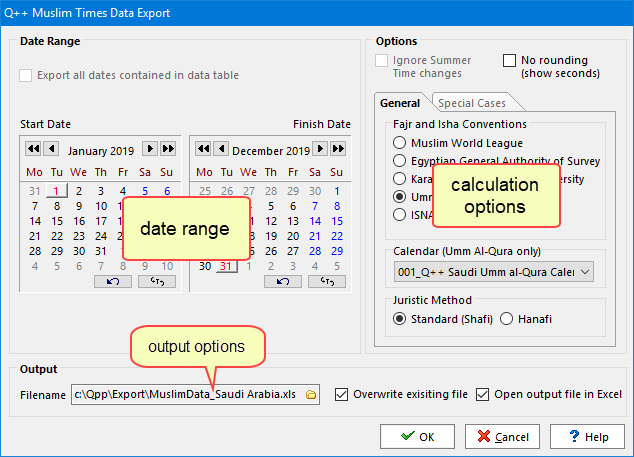 The various options available are:
| | |
| --- | --- |
| Date Range | Use the Start Date and Finish Date calendars to specify the range of dates to export Muslim Data for. |
| Output | Lets you specify the output file name, and whether it should be opened automatically at the end of the exportation. The option to Overwrite existing file is true by default. |
There are additional calculation options available to match the most commonly accepted methods of calculation.
| | |
| --- | --- |
| Ignore Summer Time Changes | Use this option if you do not wish the generated times to take summer times changes into account (assuming that the location selected has summer time rules and that the source is of the Calculated type). |
| Fajr and Isha Convention | This option lets you select between the 5 main methods of calculating Fajr and Isha (the dawn and dusk prayers). The method used depends generally on geographical location. General guidelines can be found here, but when in doubt you should contact your client. |
| Juristic Method | The Juristic Method determines how the time of the afternoon prayer (Asr) is calculated. Most schools follow the Shafi method, but if in doubt you should ask your client. |
| Safety Times | It is customary for Muslims to add safety times to ensure that prayers are not offered too early. However how many minutes to add to which prayer is dependent on personal preferences and our recommendation is to display the exact times resulting from astronomical calculations (ie. use 0 for all safety times) and let the user add his own preferred safety times. In the event that you do use non-zero safety times, it is very important to clearly mark the safety times that you are using in a footnote. |
| High Latitudes | Because of the relatively high depression angles used in the various methods of calculating Fajr and Isha, geographical locations above 48 degrees of latitude will have some days for which dawn and dusk are not defined. To get around this problem, various methods are used to determine a time for the dawn and dusk prayers. If the location used to calculate Muslim prayer times is above 48 degrees of latitude (roughly the US-Canada border or Paris in France) you should pay particular attention to this option. |
See also Exporting Muslim Dates.
---
Topic 182791, last updated on 16-Apr-2020