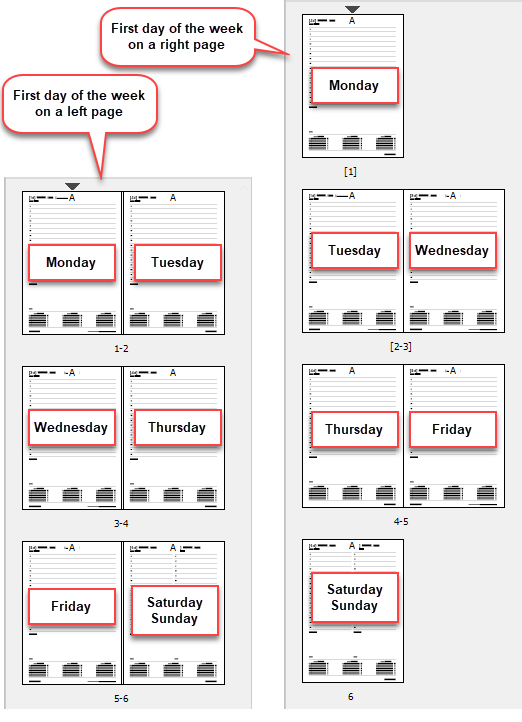 7 days on 6 pages template page arrangemnents
A special case of daily GridTemplates is the case when the number of days is divisible by 7.
In such cases, it is assumed that the grid starts at the beginning of a week and ends at the end of a week (that is to say, DayValue 1 corresponds to the first day of the week as defined in the Week Start setting of the corresponding DiaryGridLine)..
These grids usually tend to have a somewhat complex structure:
| | |
| --- | --- |
| • | Saturday and Sunday are often grouped on the same page. |
•

These grids often have a "

notes

" or "

weekly recap

" page.
| | |
| --- | --- |
| • | Some of the pages often have a reference to the current week, or even to the previous or next week. |
The above can make it hard for Q++Studio to accurately guess which DayValues fall on which pages. To be safe, you should therefore always use DayValue Marker tokens on this type of grid.
See also: 2 days on 2 pages, weekly gridtemplates, monthly gridtemplates, and yearly gridtemplates.
---
Topic 087137, last updated on 16-Jun-2022