This message occurs at the very beginning of diary generation if one of more of the files located in the diary generation temporary folders cannot be deleted.
The 3 folders that Q++Studio attempts to empty are:
•C:\Qpp\temp\buffer\tmpqxd\
•C:\Qpp\temp\buffer\tmpopf\
•C:\Qpp\temp\buffer\tmpsaras\
This message is usually due to a file in one of these folders still being open, and when using InDesign, this is often the PDF version of the output file.
The first thing to do is to close all programs except Q++Studio (always a good idea, anyways, when generating a diary). If this fails, then try is to restart your PC.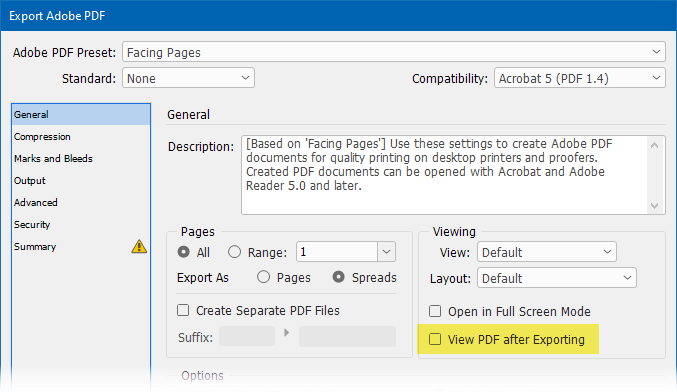 The above solution will solve the problem, but it might recur, when using InDesign, if your PDF Export Settings include the option to
View PDF after Exporting
.
Make sure that this option is always turned off, as shown in the image on the right.
➢Note that this setting is not memorized with the definition of PDF Presets.
To enable or disable this setting, you need to open an InDesign file, and then choose File > Export and select Adobe PDF for the format (or choose File > Adobe PDF Presets and select a preset).
Then, in the Export Adobe PDF dialog box, select or deselect "View PDF After Exporting", and click the Export button.
You must create at least one PDF with the setting selected the way you want, and then it will "stick" that way until you change it again.
---
Topic 181585, last updated on 20-Aug-2021