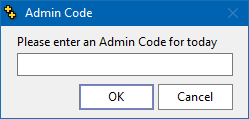 For users with
multiple license configurations
, it is possible to
import
or
export
scripts, and all related data, from one database and/or
site
to another.
To export scripts, as well as all their related data, click on the admin menu of the main window, then on Data Migration, and finally select Export.
➢A dialog, as shown in the image on the right, asks you to enter today's admin code, which you can obtain from technical support.
A special version of the Scripts Explorer then opens and, in it, you can select the scripts to be exported, before clicking on the Export scripts button.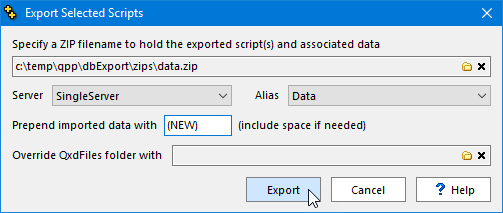 A dialog comes up letting you choose the name and location of the ZIP file where the selected scripts and all related data will be saved.
•Before you can click on Export, you must specify from which Server and, if applicable, which Alias the scripts and data are being exported.
•If you cannot see your company name in the Server drop-down list, then your company only uses Q++Studio at a single site, and you may choose SingleServer and Data, respectively.
•The Prepend imported data with field lets you specify that any created data sets, such as Holidays Sets or Macros, or SaraSets, should have the text specified here, inserted at the beginning of their names. This makes it easier, later, when these migrated scripts are later imported, to identify which data elements are new.

At the end of the export, a summary dialog appears, listing all the data elements, as well as QuarkXPress and InDesign files, that have been exported into the zip file selected above.
You can use the Export button, at the bottom of the dialog, to export the displayed summary into an Excel file.
The migration file that was created can be found in the folder C:\temp\qpp\dbExport\zips\. That migration file can then be sent to another site where it can, in turn be imported.
See also: data migration import.
---
Topic 181425, last updated on 04-Jul-2022