For multiple license configurations, it is possible to import or export scripts from one database to another.
➢To import scripts, as well as all their related data, click on the Script menu of the Main Window, and then select Import Scripts.
A dialog asks you to enter today's admin code, which you can obtain from technical support.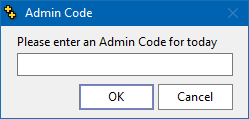 You will then be asked to close any script currently open on your workstation and to have all other users close Q++Studio on their workstation, before a dialog comes up letting you select a ZIP file which contains one or more scripts and all related data, as exported using the exporting scripts function.

Once you click on Import, if some of the data elements have previously been imported, then a dialog, such as the one below, will come up asking you to decide if previously imported data elements should be ignored or overwritten.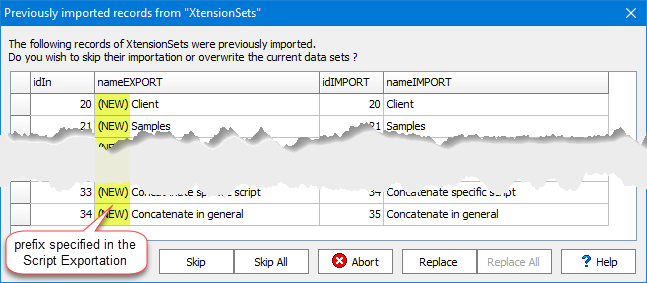 •Use the Skip button to exclude all data elements shown in the dialog, from the importation (ie. keep the existing data).
•Use the Replace button to replace all existing data elements by those shown in the dialog.
•Once you click on the Skip All or the Replace All button, this dialog will no longer appear and all further conflicts will be skipped or replaced, accordingly.
•You can decide for each type of data (ie. every time this dialog comes up) whether to Skip or Replace, but in each case your choice applies to all the data records currently displayed in the dialog (for example, in the screenshot above, it is not possible to ignore some of the imported macros sets and have some others replace the existing ones in the database). It's all or nothing.
If you specified a prefix in the script exportation, then for those data set elements, that prefix will appear in the exported name column, as shown in the image above.
At the end of the importation, a summary dialog appears, listing all the data elements and QuarkXPress files that have been imported, as well as those data elements which were skipped.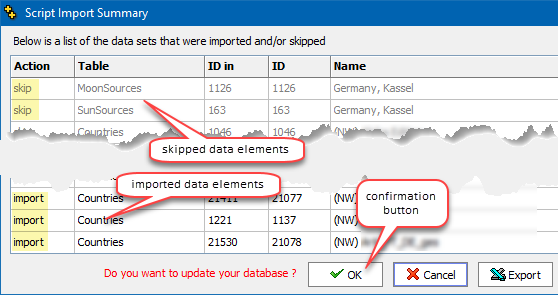 You can use the Export button, at the bottom of the dialog, to export the displayed summary into an Excel file.
See also: exporting scripts.