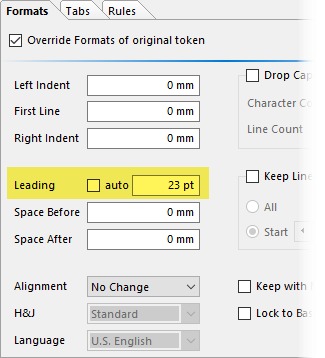 The
formats settings
of the
GenTokens options mentioned in the message text
use a non-zero value for the leading.
This message usually comes after a QuarkXPress script has been converted to InDesign.
➢In InDesign, leading is a text attribute, as compared to in QuarkXPress where it is a paragraph attribute.
If this design-time message is not addressed, then the value specified for leading will be ignored.
Use a macro to set text leading.
Use a Sara to set text leading.
---
Topic 186210, last updated on 04-Oct-2021