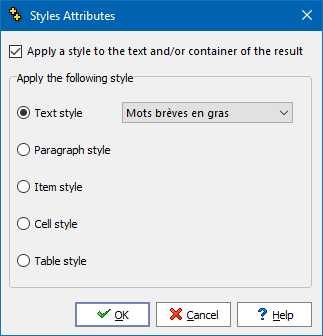 The
style
resulting actions
determine if any of the
styles defined for the current template
should be applied to the text produced by a
macro token
(or the paragraph, textbox, table or cell, containing that text, if using paragraph, item, table or cell styles).

This setting, shown above, is located at the bottom-right of the resulting actions tab of the macros options property editor.
Currently (September 2023), applying a style as the result of a macro requires InDesign and is not available when using QuarkXPress.
See also: applying styles with saras.
---
Topic 187290, last updated on 11-Apr-2023