When InDesign starts to behave strangely, the number one suggestion for troubleshooting is to replace (or trash or purge) the application preferences cache. This will remove corrupt preferences and replace them with a new set of default preferences, and often end bad behavior.
➢The Purge InDesign Cache function solves InDesign problems in 95% of cases and, even when it is not the solution, it does no harm.
Use the menu sequence below to have Q++Studio automatically purge the InDesign preferences cache on your workstation.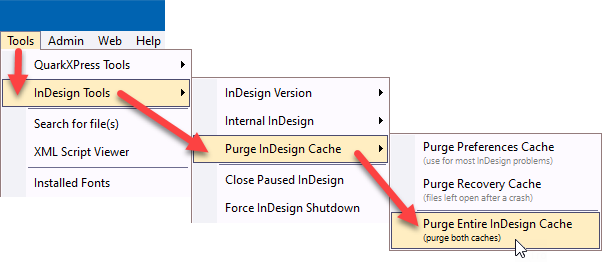 For more details about rebuilding InDesign preferences, see the CreativePro online article Rebuilding InDesign Preferences.
The QuarkXPress preferences exist in both the external and internal locations, and therefore can be purged independently. However, all InDesign preferences are located in the same folder, and therefore are shared by the external and internal version of InDesign.
So the Purge InDesign Cache menu only has one sub-item related to preferences, as shown in the image above, and purging InDesign preferences applies to both the external and internal version of InDesign.
Manually purging InDesign preferences
To purge the external InDesign the preferences cache manually, close and relaunch InDesign, and IMMEDIATELY hold down Ctrl + Alt + Shift (Windows) or Cmd + Ctrl + Opt + Shift (Mac), and respond in the affirmative to the dialog asking if you really want to replace the preferences.
The InDesign recovery cache is similar to QuarkXPress' rescue folder, in that it contains files that were loaded in InDesign, whenever InDesign crashed or was closed forcibly.
The main difference is that, every time InDesign is launched, it tries to open all the files located in the recovery cache. So, if the files in the cache were the cause of the crash, you can easily get into an endless loop.