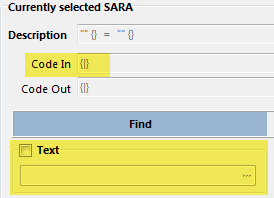 The
Find
part of one of the
saras
is blank, as shown in the image on the right.
This can cause speed problems and/or unwanted wholesale text formatting changes (at best) or a QuarkXPress or InDesign crash (for textboxes containing a lot of text).
Solution:
•Edit the Sara used (recommended): Lets you edit the sara so you can select a new color (preferable one of the Templates Colors).
---
Topic 181980, last updated on 24-Jul-2022