Located above the list of Saras, in
browse mode
, this toolbar lets you
add
,
delete
,
duplicate
Saras or
copy
one or more Saras from another SaraSet, as well as
activate
/
deactivate
Saras and
change the order
in which they are applied.

In
edit mode
, only 2 buttons are active, one to confirm the changes made to the currently-selected Sara, and one to cancel these changes.
Note that changes in edit mode are saved to the currently-displayed list of Saras, but not yet to the corresponding SaraSet in the database. If you have made changes to the currently-displayed list of Saras, when you close the Saras Editor dialog, you will be asked if the changes should be saved to the database.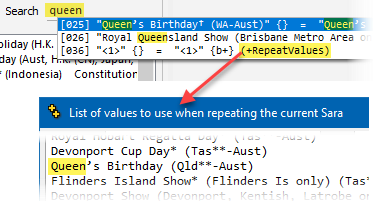 At the right of the toolbar, there is a
search bar
, letting you search through long lists of SARAs.
The search bar also searches for elements that are not visible in the list of SARAs, such as comments and repeated lists of values.
As shown in the example, on the right, entering "queen" into the search bar results in 3 matches, the reason for the 2 first matches being obvious.
However, the third result does not obviously contain the text "queen", but in fact the displayed Sara does contain that text within its repeated values list, triggered by the presence of the tag <1> in its search field.
The search bar search also searches within saras comments, allowing you to search for text that you would normally require you to select each SARA individually, to see the text they contain.