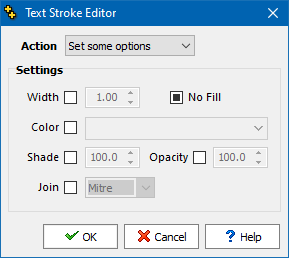 Settings in Q++Studio
Text Stroking is similar to the Outline face attribute, but it has the advantage that the color, shade, thickness and opacity of the outline can be controlled.
Additionally, by setting the option NoFill to false, then the inside remains, allowing for the creating of 2-color text (as the result of stroking remains text and can be treated as text, not as vector shapes).

The Text Stroke Editor appears in Q++Studio when selecting the Stroke property in macro options, text formatting attributes and saras.
Its settings and options correspond to the text stroking part of the Tools Bar of the QuarkXPress user interface.

Remember that Text Stroking is a text attribute and therefore can be combined with any of the other text attributes, including text background shade and text background frame.