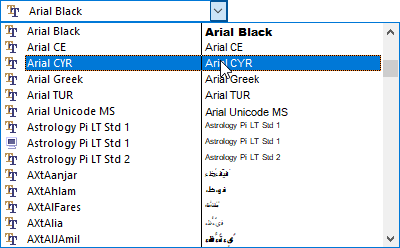 The
screen font list selector
is a ComboBox displaying all the screen fonts installed on your computer, along with a preview of each font's appearance.
The screen font list selector is used to select a font, but make sure that you do not use any of the fonts whose names begin with @ as these are shortcuts to fonts installed with QuarkXPress but which will not work if you select them.
This selector is only used to choose screen fonts that are used solely in the Q++Studio user interface, such as the selection of the font to use in the macros editor.
Selecting a font that will be used in print (ie. in a QuarkXPress or an InDesign document) is done using the print font list selector.
See also: the character map and the print font list selector.
---
Topic 182070, last updated on 19-May-2023