The Font List common ui element is a ComboBox displaying all the fonts installed on your computer, along with a preview of that font's appearance.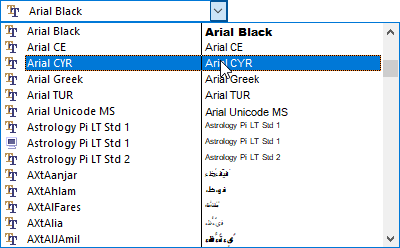 The Font List ComboBox is used to select a font, but make sure that you do not use any of the fonts whose names begin with @ as these are shortcuts to fonts installed with QuarkXPress but which will not work if you select them.
If a property value refers to a font that is not installed on your computer, you can see the name of that missing font by placing your mouse over the ComboBox; a hint will appear with the name of the missing font.
See also: Character/Font Selection Dialog and the Advanced Font List.