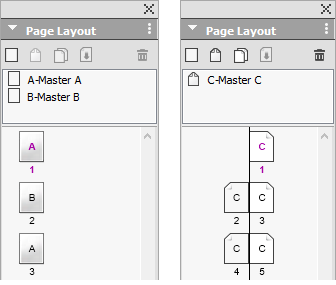 non-facing and facing pages
When this option is set to true, the pages in the QuarkXPress output file are displayed facing one another, like in a normal book.
➢By default this property is set to true since that best represents a physical diary.
There are 2 possible reasons to set this property to false:
•Some dated products, such a wall calendars, or diary models with a horizontal spine, do not lend themselves to a facing pages layout.
•The width of QuarkXPress spreads is limited (48 inches, approximately 122 cm, for QuarkXPress 5-10, and 224 inches (almost 6 meters), for QuarkXPress 2015-2024). This means, for facing pages, a maximal page width of 24 inches for QuarkXPress 5-10, and 112 inches for QuarkXPress 2015-2024. Therefore, if you need to generate documents with a page width larger than 24 inches (or 112 inches), then you need to set the Facing Pages option to false.
Whether you choose to use facing pages, or not, for your output file, remember that you should not use facing pages for your GridTemplates.