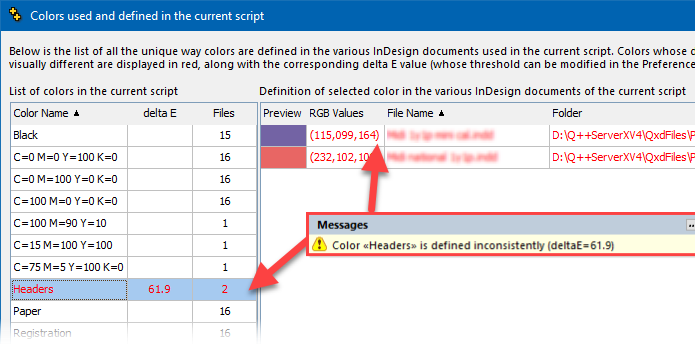 This message reminds you that you have chosen to ignore the
warnings about colors consistency
for the current script.
➢This is not recommended.
This could be due to the use of the always ignore setting in the InDesign preferences or QuarkXPress preferences, depending on the case, or overriding the warnings about inconsistent colors for the current script.
The exact text of the present message will indicate which of these 2 possibilities is the cause for the message.
Solution 1
If you have not rescanned all the files of your script since March 2023, then we suggest that you choose the proposed solution Rescan all the InDesign/QuarkXPress files of script which will rescan and reinspect all the InDesign/QuarkXPress files used in the current script to ensure that the color information is up-to-date.
Otherwise, the preferred solution is to open the list of defined colors in the script, as shown on the right, and identify the inconsistent colors and the templates which use them, and fix the problem.
---
Topic 187210, last updated on 12-Mar-2023