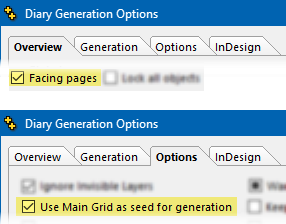 This InDesign
design-time message
means that your script is using the
use main grid as seed
and
facing pages
diary generation options but that the
main grid of your script
contains an odd number of pages.
The use of this combination of options will not work when using InDesign, as its internal structure is based on spreads, which must include 2 pages when a document is set with facing pages.
Solution
Select from the suggested solutions pop-up menu, and either turn off the use main grid as seed option, or change the facing pages diary generation option to non-facing pages.
---
Topic 186030, last updated on 02-Oct-2021