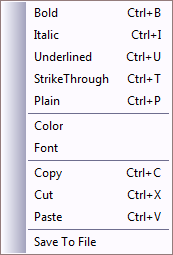 Available for all
script lines
.
At the bottom of the properties inspector, there is a memo field labeled "Comments". It allows you to insert comments about the currently selected script line.

These can be a "to do" list, or explanations for some of the settings used so that you, or another user, can understand what you did when it comes time to update this script next year.
Right-clicking on the comments editor brings up a pop-up menu that allows you to modify the basic typographical settings of the currently selected text (bold, italic, underline).
In the specific case of PlaceHolder script lines, the value of the Label property is displayed in the generated page, as shown below.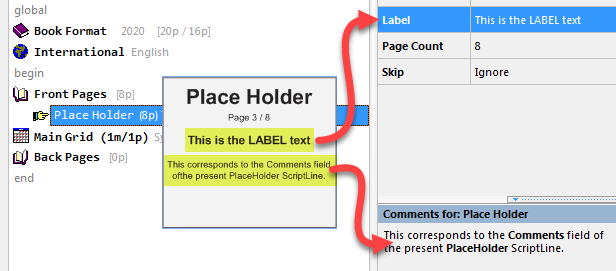 You can include global tokens in the Comments property.

This is useful to be able to apply copyright year and reference/SKU information to PlaceHolder pages, using a Global Sara such as the one below.

The Find text can be a token but it can also be any text that you wish. The Change to side can be a combination of the global tokens allowed in Global Saras as well as any plain text.
The global tokens that can be used are: Script Year Token, Year of Now Token, Job/Reference Number Token.
---
Topic 108195, last updated on 26-Feb-2021