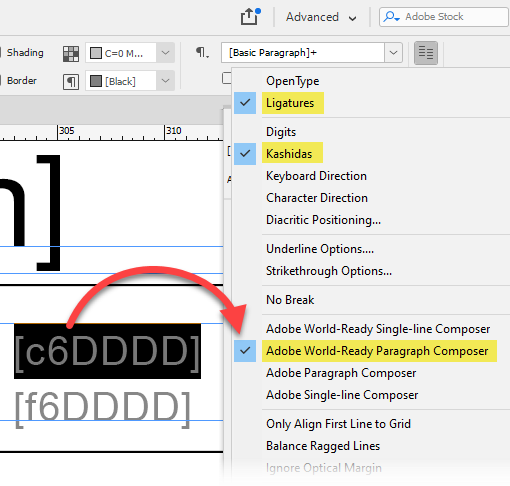 The
XV4 version
of Q++Studio supports the native use of
Arabic
when using any of the
supported versions of InDesign
.
For an overview of the InDesign features for Arabic available in the Middle East and North African edition of this software, see the page here, which covers the following topics: Adobe World-Ready Composers, Text direction, Story direction, Automatic Kashida insertion, Ligatures, Diacritical marks, Copy-paste from Microsoft Word, Default fonts, Legacy font support, Digit Types, Hyphenation, Find and replace, Glyphs, Justification Alternates, Special Middle East characters insertion, Table direction, Binding directions, Right to Left writing preferences, Page and chapter numbering, Writing direction in Gallery view and Story Editor, and Diacritical coloring.
To use Arabic in InDesign, you need to install the MENA edition InDesign (MENA - Middle East and North African languages). You can access MENA editions of InDesign by temporarily switching the language of your Creative Cloud desktop app to either Hebrew or Arabic, as described here.
When setting tokens that will receive Arabic text, make sure that you have applied the Adobe World-Ready Paragraph Composer style to your token, and the Ligatures and Kashidas are enabled, as shown on the right.
See also: working with Arabic text in QuarkXPress, working with Hebrew text in InDesign, and Install Hebrew or Arabic versions of InDesign and Illustrator.
---
Topic 185360, last updated on 02-Nov-2022