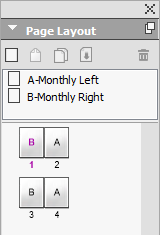 GridTemplate with custom vignette names
In Q++Studio, the use of master pages in your GridTemplates is limited.
In your GridTemplates' master pages, you should set:
•The margins you wish to use.
•Custom vignette names, if you wish.
Do not place any token inside textboxes that are located in master pages.
---
Topic 174095, last updated on 23-Feb-2021